Winter is the perfect time for blankets and TV!
Perfect excuse to start a new series! Or movie?
Let me know if you would all like a blog post on some movie picks as well!
Wow. This series was so so well made! I already have a feeling this blog post will be lengthy because I can talk about shows and characters FOREVER. But I will get to it! So the main character Denise pictured below is seriously adorable but posses great courage as an employee/woman and does so with so much grace. Obviously there's a love interest and he's the store owner but I won't ruin anything else for you! There's drama in the show but nothing stupid or repetitive at all and most of the problems are solved by the time the episode has ended which I like! The name of the department store is called 'The Paradise' and the producers did such an excellent job at portraying it as the most extravagant store that I honestly wish I could go there and be lured in by the beautifully displayed products. Like this picture just speaks for itself, it captures a beautiful scene of the store and the curious/witty face of the wonderful Denise.


An adaption
of
Émile Zola

'
s
novel
Au Bonheur des Dames
2. North & South
This is basically Pride & Prejudice, only a century later. No but really, sometimes I debate on whether this one is better because not only does Mr. Thornton do an excellent job at portraying a strong but passionate character, you truly feel how Margaret Hale feels as she shifts her dislike into a genuine love for him. Sometimes I think he is the true Mr.Darcy. Sorry Matthew Macfadyen/Colin Firth. I also very much appreciate the social issue aspect that North & South addresses. That's the thing about some period dramas, they make them so romantic and beautiful that they forget how so many social issues enveloped the growing industrial world. That is why I love North and South, yes it has a surprising love story but also a very real and raw depiction of the working class and how they were effected by the political and economic idealogies of the time.LOL. If you haven't figured it out yet I'm kind of a history geek!
Based on Elizabeth Gaskell's novel North & South
3. Miss Fisher's Murder Mysteries
I was so excited to see this series because this was the 1920s! Things really began to change and the fashion was truly glamourous. This show really went beyond that! Miss Fisher (pictured on the bottom right) is so perfect at literally everything! She solves intricate crimes, captures bad guys, always know what to say and does so with fabulous style! Ya'll already know that guy on the bottom right is her love interest! But besides that, it really is an exciting show that captures the rustle and bustle of the Roaring 20's. I'm sure you'll be as excited as me when they come out with the third season next year!
4. Gran Hotel
Nope. NOT. EVEN. CLOSE. You guys it was so hard to find a picture that captured this super addicting show! I'd never watched a show thats kept me on the edge of my seat but DANG this show did just that. This show is originally from Spain so saludos to my fellow Spanish speakers, but it has English captions! This show really involves so many things: drama, crime, romance, mystery, comedy etc. etc. My family and I got really addicted to this show in the summer and we still talk about it to this day! I'd love to mention the plot but you just need to see it,it is so good we even got my cousins addicted as well! Also, the cinematography is just spot on! The producers seriously made everything so so so crisp and beautiful. Yes just like a chocolate wafer!
5. Parks and Rec
(Chris Traeger voice) This is literally the best show I have ever see! You guys I am so sad to see that this show will be having its last season next month and I won't be able to handle it (insert crying emoji) but the main charcter Leslie Knope is seriously one of my role models. As I've mentioned in one of my blog posts, she's just so hilarious and funny and loving and caring and energetic I just wish I could meet the actress that plays her, Amy Poehler, because it looks like it doesn't take much for her to get into chararcter. If you loved the series The Office then you'll definitely love this series and honestly the picture below captures the show perfectly!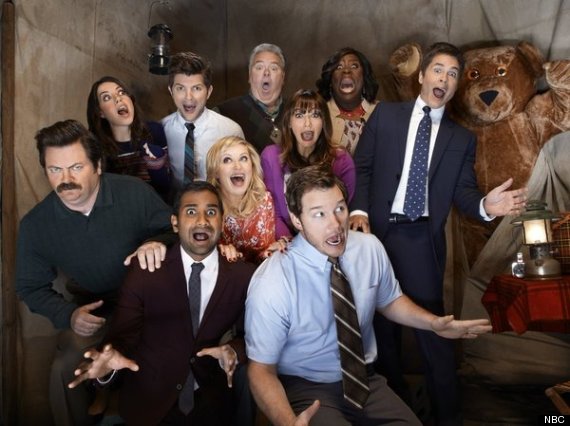 Keep in mind I didn't watch all these shows in one go! These are series I've watched since early Spring of this year! But I do enjoy some occasional netflix binges!
Let me know if you give any of these a try!:)